The woman known as 'the Angel of the Coal Fields' …
Welcome to the Sophia Coxe Memorial Foundation & Education Center, established at the Sophia Coxe estate to educate the public about the life and charitable works of Sophia G. Coxe.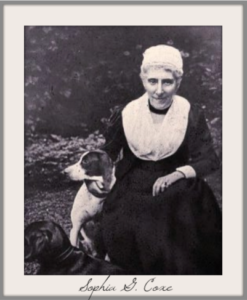 Sophia spent her lifetime lightening the misery & drudgery of mining families of the Coxe Collieries. She gave ninety percent of her income to charitable works, living on the remaining ten percent. While her charity continues today, her house is preserved as a means of educating visitors about her family history and personal life.
Guided tours of this historic home relate the history of Sophia and her husband, Eckley B. Coxe. Learn about the town of Drifton, Pa., the premier mining village that was built by Coxe Brothers & Co. — the largest independent producers of anthracite coal in the United States at the turn of the century. Join us for a house tour, and sneak a peak into the life of "the Angel of the Coal Fields."
Learn something new, an art, a trade. Take your newfound knowledge and your creation with you when you go.
The Sophia Coxe Foundation hosts a variety of other events and workshops through its Education Center that provide many hands-on opportunities to learn about different arts and trades. On the estate, there is an established blacksmith shop. Classes include Introductory, Intermediate, and Advanced-level workshops, Ladysmithing classes, and Junior Smithing classes. Also included is How to Build Your Own Forge. Visit the Education Center page for more information.
The Foundation also offers Pysanky egg workshops, art classes, and other traditional skills and crafts. Be sure to check our schedule of events each month to find an event that may interest you!